A Feast for the Senses
Egypt's People Are Its Greatest Treasure
Arabic is the official language of Egypt, spoken by the entire population of over 100 million citizens. In urban centers and popular tourist destinations, many Egyptians understand and are fluent in English. In tourist areas, other European languages—such as French, Russian, Ukrainian, Spanish, and Italian—are also commonly spoken.
Regardless of what language Egyptians speak, the language closest to their heart is laughter. Egyptian culture is known for its love of humor and linguistic playfulness, and you will notice that even the simplest interactions will leave you smiling with friendly wit and banter.
Rich in Religious Tradition
Egypt's Muslims and Christians have been living side by side and coexisting peacefully over the centuries. Muslim holidays, such as the celebration of Eid twice a year, and Coptic Christian holidays, such as Coptic Easter and Coptic Christmas, are large festivities celebrated with family, loved ones, and special food. Egyptians share a reverence for community and family, with close-knit and warm relationships being the norm.
DISCOVER
Egyptian festivals and traditions
Ramadan is the holy month of fasting celebrated by Muslims around the world. It is marked by elaborate feasts shared daily at sunset with family and friends. Egyptian streets and balconies are decorated with colorful lanterns and lights throughout the entire month.
Eid al-Fitr is a three-day holiday that officially marks the end of Ramadan and fasting. Families gather to celebrate and eat Kahk al-Eid, traditional cookies filled with agameya (a filling made of honey and nuts), dates, or pistachios, and topped with powdered sugar.
Eid al-Adha commemorates Prophet Ibrahim's readiness to offer his son Ismail as an act of obedience to God and God's provision of a lamb to sacrifice in place of Ismail. It also marks the end of the annual Hajj (pilgrimage) to Mecca. This four-day holiday is famous for elaborate meat dishes, family gatherings, shared feasts, and the distribution of meat to the needy.
Al-Mawlid al-Nabawy is the annual celebration of the birth of Prophet Muhammed. Special sweets molded into elaborate traditional designs in the shapes of dolls and horses are shared with children.
Christmas in Egypt is officially celebrated by Coptic Orthodox Christians on the 7th of January, which is a national holiday for all Egyptians. Coptic families gather for a Christmas feast that marks the end of a 43-day vegan fast. The 25th of December Christmas is also commemorated with Christmas trees and festivities taking place throughout the month in the larger cities and tourist destinations.
Palm Sunday is an important day in the Coptic Christian calendar, marking the day Christ entered Jerusalem surrounded by followers carrying palm fronds. Vendors selling palm fronds in the shape of various ornaments fill the streets in front of churches, and children and adults alike compete in making elaborate shapes from the palm fronds.
Sham al-Nessim is a uniquely Egyptian holiday that traces its roots back to ancient Egypt. This day, which falls on the Monday after Coptic Easter, marks the beginning of spring and is celebrated with outdoor picnics, egg coloring, and special dishes of traditional smoked and salted fish, lettuce, and onions.
Food, Drink, & Entertainment
Egyptians love to talk, eat, and stay up late together. If you are looking for a travel experience that will enrich your life with genuine human connections and laughter, Egypt is the place to go! Perhaps owing to Egypt's young population, with around 60% of Egyptians under 30, it is common to find Egyptians staying up late enjoying conversation or the latest football match over a shared meal or several rounds of tea. In Egypt, you will experience genuine hospitality and make lifelong friendships fast, usually revolving around a memorable meal or two...or maybe even three!
Egyptian cuisine will most certainly not disappoint. Egyptian cuisine has plenty of vegan and pescatarian recipes that have been tried, tested, and developed through the ages, but an innovative culinary scene means you can go on food tours to sample a variety of tempting dishes in diverse settings, both traditional and upscale. Most hotels serve international cuisine alongside Egyptian dishes. Present-day Egypt is also known for being the cultural hub of the Arab world with a vast production of art, music, film, and a lively visual and performative arts scene—so after your meal, make sure to look up the current cultural events happening near you!
Here are some favorites from Egyptian cuisine that are not to be missed:
DISCOVER
Egyptian Food Favorites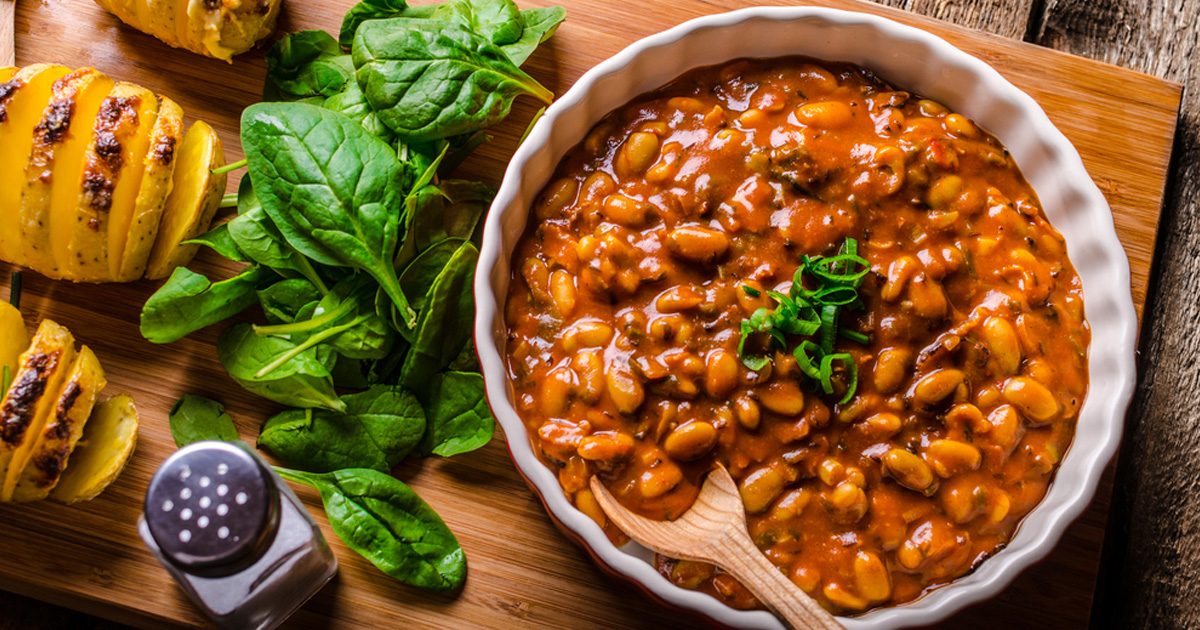 Foul – The most common breakfast staple in Egypt, buttery, slow-cooked, spiced fava beans are eaten with delicious Egyptian baladi bread (Egyptian flatbread).
Taameya – This vegan fritter is made of ground fava beans and mixed with aromatic herbs to make a delicious patty that is crunchy on the outside and airy and soft on the inside.
Koshary – A mix of pasta, rice, brown lentils, chickpeas, garlicky red sauce, and fried onions, this Egyptian classic is both filling and deliciously flavorful.
Molokhiya – Arguably Egypt's national dish, molokhiya is a soup made of the minced leaves of the Molokhiya plant, topped with fried garlic and coriander and served over rice or with bread.
Alexandrian Kebda – Thin strips of beef liver fried to perfection and made into scrumptious sandwiches topped with tahini sauce. Eateries in Alexandria and beyond are always in competition to make the best kebda. Taste and vote for yourself!
Kunafa, Basboosa, Qatayef, and Baklawa – While several Middle Eastern countries will claim these sweet, syrupy desserts with nutty and creamy fillings and toppings as their own, they are of Ottoman origin. Each country does a slightly different take on them, and Egypt is no exception. They are best enjoyed with a glass of strong, hot tea.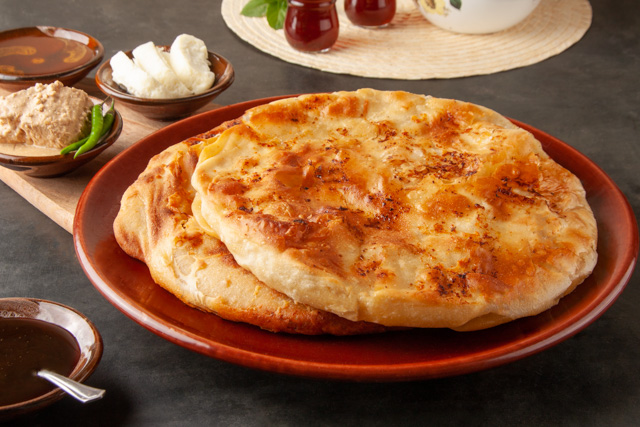 Feteer Meshaltet – Some claim that feteer meshaltet, flat thin layers of pastry dough with loads of butter in between, is the predecessor to the croissant. This truly Egyptian dish can be enjoyed with both sweet and savory toppings and is best when made in traditional, mud-brick ovens found in the Egyptian countryside.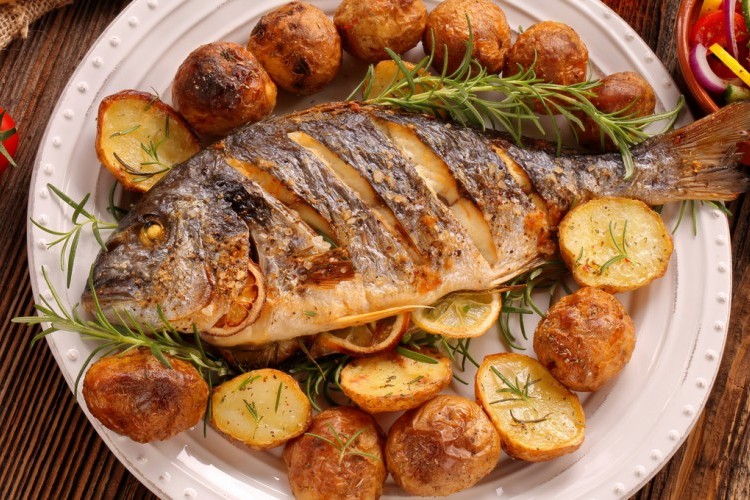 Fish – Seafood is a specialty in Egypt, particularly in the coastal cities of the Red Sea and Mediterranean. Signature seafood dishes include sengari fish (butterflied fish marinated in a mix of garlic, onion, vegetables, and spices), blackened fish, and sauteed shrimp with a tangy mix of tomatoes, onion, and garlic, all served with sides of tahini dip, baba ghanoush, and baladi bread.
Kabab and Kofta – These mouthwatering grilled lamb and beef dishes are presented either as small marinated pieces (kabab) or as skewered ground meat (kofta) combined with spices and parsley then cooked over a fire. Accompanied with a dazzling array of side salads and dips, pickled vegetables, and freshly baked baladi bread, this meal is unmissable for any carnivore. .
Hamam Mahshi – An Egyptian classic, hamam mahshi is a dish of stuffed squab (a small pigeon) usually served as a pair and traditionally stuffed with cooked freekeh (durum wheat grains). This dish is considered a popular dark meat delicacy served at celebrations and special events.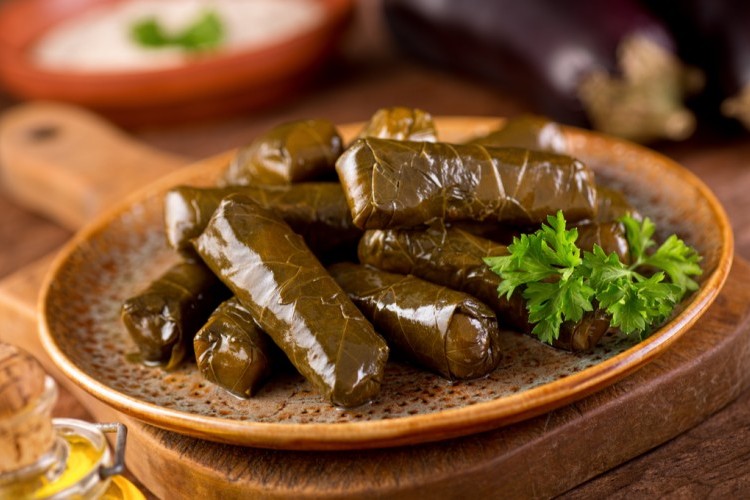 Wara Enab (Stuffed Grape Leaves) – These small, perfectly rolled vine leaves are stuffed either with herbed rice or a rice and meat mixture and then cooked in a rich broth. Irresistible and often served with a yogurt and cucumber dip.